| | | | |
| --- | --- | --- | --- |
| Welcome to Our Media Center! | | | |
Book Fair - October 14-18, 2013
Scholastic Online Book Fair Link


B

e
Excited A

bout
R
eading Links

(

B.E.A.R
)
Primary Reading Log K-1
SC Elementary Reading Log 2nd - 5th
2013 6-12 Grade Reading Log
100 Ways to Read With or Without a Book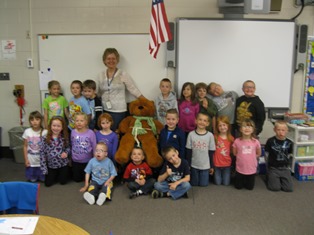 Mrs. Malecki's Kindergarten class met their BEAR goal each month.


SC LMC Subscription Databases Widgets

You can search from this screen
The

mission

of the South Central Library Media Center is to ensure that students and staff are users of ideas and information, promote reading, integrate technology and foster collaboration.

Library Media Center Program Vision
LEARNERS USE SKILLS, RESOURCES, & TOOLS TO:

Inquire, think critically, and gain knowledge.

Draw conclusions, make informed decisions, apply knowledge to new situations, and create new knowledge.

Share knowledge and participate ethically and productively as members of our democratic society.

Pursue personal and aesthetic growth.

(AASL. Standards for the 21st Century Learner)
All students will participate in a minimum of one teacher(s)/library media specialist collaboratively planned, taught, and assessed research project, meeting Indiana academic and Standards for 21st Century Learners each year
All students will use multiple sources and provide bibliographic information for all school reports
All students and staff will be proficient users of the South Central OPAC and provided online resources
All students and staff will be proficient and motivated readers, support the concept of intellectual freedom and the Reading Bill of Rights
Click on month to see 2011-12 reports
December
November October August/September
Click on year to see Annual Reports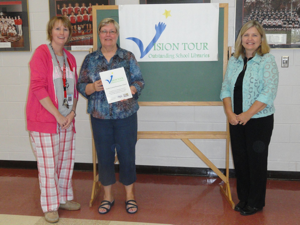 Principal Schnick, Mrs. McGriff, Dr. Everhart

1999 - Esther V. Burrin Award for Outstanding Media Program - SC GEAR


2001 - AIME/ILF Peggy Leach Pfeiffer Service Award - Mrs. Nancy McGriff



2005 - Indiana Blue Ribbon For Exemplary School Media Programs

2008 - Indiana's American Star of Teaching Award - United States Department of Education

2010 - Indiana Outstanding School Libra
ry - AASL Vision Tour


September 29, 2011 - Mrs. McGriff participates in "Real Women Read" at the Hanna Library (LaPorte Herald Argus article)


October 20, 2010 -
AASL President, Dr. Nancy Everhart, visits as part of her Vision Tour
LaPorte Herald Argus article
Mrs. Deb Kammrath

School Librarian
219-767-2263 X 324, X 389 (Voice Mail)
kammrath@scentral.k12.in.us


I have been at South Central since 1972... beginning as a fifth grade student. I graduated from S.C. in 1980 and earned my Bachelor of Arts from Purdue University in 1984. I began my teaching career in the parochial schools and was fortunate to return to my home school in 1986. I have taught first, second and fourth grades. After 26 years in the regular classroom, I added the Library Media Specialist certification to my license. So my classroom has expanded to Kindergarten through Senior classes. My duties include integrating the Information Literacy Standards and library skills. I am also involved in extracurricular activities with the high school, as sponsor of Student Council. My husband, Skee and I have three children, Anna, Jackson and Marcus. I am proud to note that of my family of 5, all are SC grads, with everyone, but me, starting at South Central as Kindergartners. We are proud of what SC has given us in values and educationally.


Mrs. Wendy Beehler
Media Assistant
219-767-2269 X 324
wbeehler@scentral.k12.in.us


K-12 Library Media Center
Seating for four classes
Elementary story area
72" SMARTBoard with integrated projector
56" mobile SMARTBoard
2 LCD projectors and large roll down screens
2 - 16 station wireless carts with printer & LCD projector
28 station multimedia lab
35 OPAC/Internet stations
3 flatbed scanners
2 LCD mobile projectors
5 digital cameras
2 Sony and 1 Elmo video presentation stands
2 Networked laser printers
1 Networked ink jet printer
Copy machine
Distributed video system with 4 satellite TV receivers and 1 DVR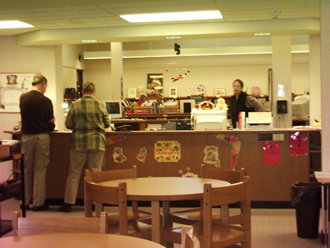 Collections
K-12 Collection - 33000+ items
Print periodicals - 40 titles
Newspapers - 1 print titles
Professional collection - 800+ items
Reference collection - 900+ items
Audio-visual collection - 750+ items
Subscription databases - 12