SCHS Prom Committee Presents: The Great Gatsby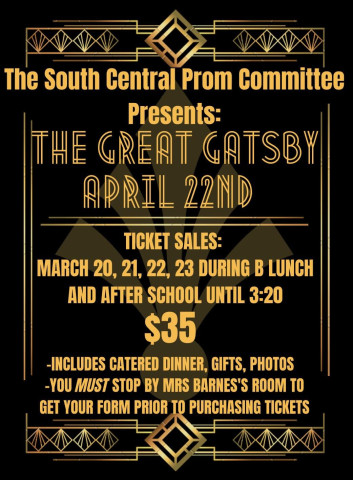 The 2023 prom, presented by the South Central Prom Committee, will take place on April 22nd at The Shed. This year's theme is "The Great Gatsby". The grand march will take place prior to the start of prom in the north gymnasium.
Tickets will be on sale March 20th-23rd during B lunch and after school until 3:20pm in room H19. Tickets are $35.00 and includes catered dinner, gifts, and photos. You must stop by Mrs. Barnes' room to get a form prior to purchasing tickets.
The prom committee is also looking for dessert donations (cookies, cupcakes, cheesecakes, cakepops, etc.). If you'd like to donate a dessert, please contact Mrs. Barnes by March 31st.