SC Drama Club Presents Rodgers & Hammerstein's Carousel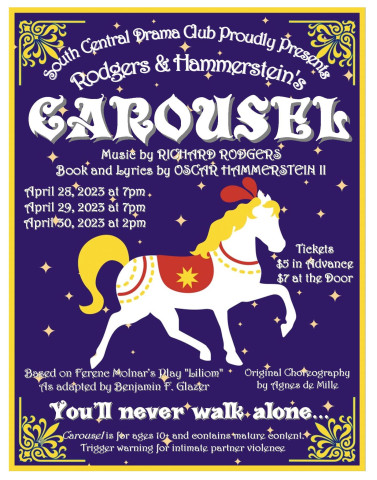 South Central Drama Club will be presenting Rodgers & Hammerstein's historic musical Carousel. Set in 1873, Carousel follows Billy Bigelow, a swaggering, carefree carnival barker, who falls in love with and marries the sweet but naive Julie Jordan. Many of the men in this story are veterans of the Civil War and struggle with issues of anger, anxiety, and insecurity in themselves and their relationships. Billy is no exception and struggles to overcome his issues to be a better man for Julie. However, he is not necessarily successful and finds himself on a search for redemption. Showcasing renowned songs like "June is Bustin' Out All Over," "Soliloquy," "If I Loved You," and "You'll Never Walk Alone," Rodgers and Hammerstein's musical will have you laughing and crying and will leave you wanting to be a better person.
SCDC will be performing Carousel on April 28th at 7:00pm, April 29th at 7:00pm, and April 30th at 2:00pm. Seniors will be honored on Sunday after the show. According to Concord Theatrical's website, Carousel is for ages 10+, as it contains mature content and trigger warnings for intimate partner violence. Tickets can be purchased in advance for $5.00 or $7.00 at the door. Contact a drama club member or the school office to purchase in advance. Come join SCDC for their final performance of the year!