Online Learning Information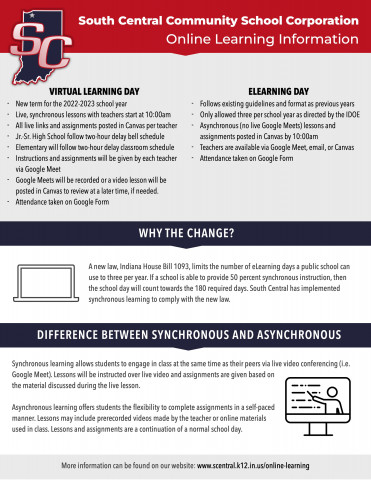 Dear Parent/Guardian,
As you may know, a new law created in 2021, Indiana House Bill 1093, limits the number of eLearning days a public school can use to three per year. South Central has utilized eLearning days for several years now for teacher professional development days (days scheduled in November and February) and inclement weather days. eLearning days are asynchronous (no live Google Meets) where lessons and assignments are posted by 10:00am and teachers are available to meet, as needed. With this new law, if a school is able to provide 50 percent synchronous (live Google Meets with the teacher) instruction, then the school day will count toward the 180 required days. We will refer to this as "Virtual Learning" instead of eLearning.
November 1st is our first and only scheduled Virtual Learning day for the 2022-23 school year. There are NO scheduled eLearning days at this time. We will use November 1st to practice this new model of virtual instruction. We will operate on a 2-hour delay schedule, and the school day will begin virtually at 10:00am. Attached, you will find an informational graphic that helps to better explain these new "Virtual Learning" days. Additional information is also available on our
online learning page
.
We understand that these changes are not always ideal, however, given this new Indiana law, we are required to make this change. As stated earlier, we are allowed up to three eLearning days per school year. We will utilize eLearning, when needed and appropriate (i.e. if there is a power outage, we have already utilized multiple Virtual Learning days in a row, other unexpected circumstances). This will be clearly communicated to you in a School Messenger announcement.

We sincerely appreciate your understanding and assistance with this change. Please do not hesitate to contact the school if you have any questions!